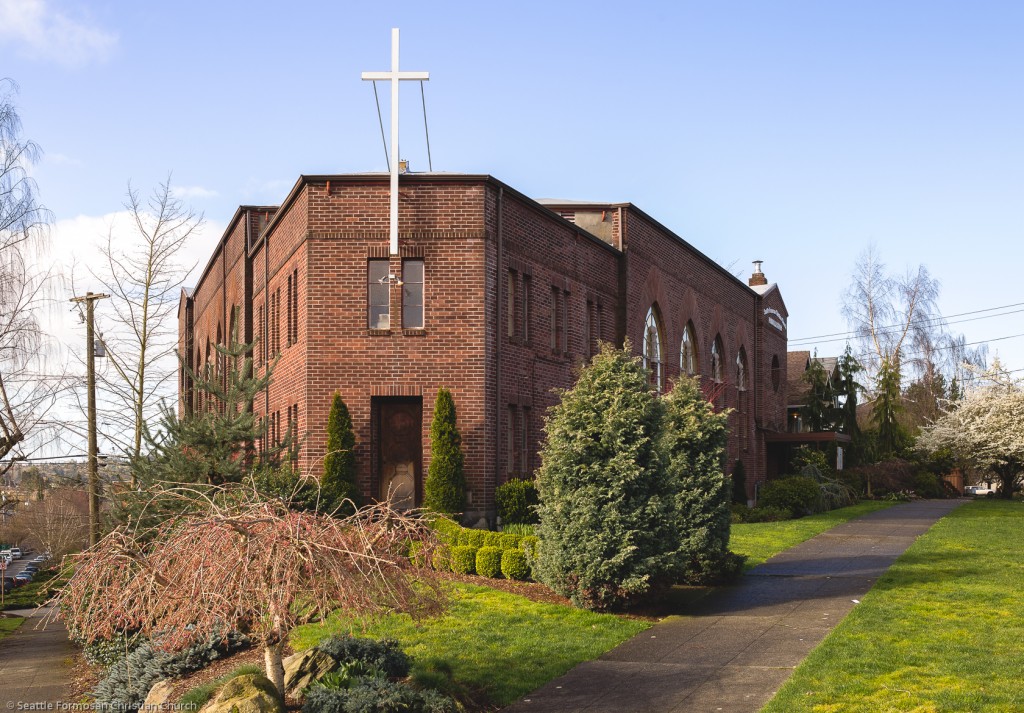 In Oct 1969, Seattle Formosan Christian Church ("SFCC") was founded as a bible study fellowship, holding weekend meetings at Japanese Congregational Church near International District in Seattle. Later we started to have regular Sunday worship with Pastor Ai-chi Tsai as the speaker and moved to University Baptist Church near the University of Washington.  In 1984, Pastor Joshua Liu joined the church as senior pastor, ministering the church for 23 years until his retirement at the end of 2006. From January 2007 to June 2009, Pastor John Chen is our Taiwanese Congregation Pastor. In July 2012, Pastor Ian Cheng joined the church as Taiwanese Ministry Pastor. The English Ministry was officially established in 1996, pastured by Pastor Solomon Liu. Over time, the English congregation has grown into a body not only of youths, but mostly of college-aged, career professionals and young families. In March 2007, Pastor Walter Chen joined the church as associate pastor, ministering English congregation. Our current church building was purchased In 1987, which can seat 300+.
On Sundays, SFCC has a Taiwanese worship service ( 9:30am-10:45am) and an English worship service (11:15 am-12:30pm). SFCC comprises of a Taiwanese-speaking ministry, an English-speaking ministry, and a Mandarin-speaking ministry. Mandarin Chinese and English translations are also offered during Taiwanese service. SFCC also serves a growing number of children and youths through the children ministry (bilingual English/Mandarin) and the youth ministry (English-speaking).
SFCC has several fellowships and small groups, children's Sunday school and adult Sunday school to facilitate the spiritual growth of the members. The church has a good organization. Each deacon is faithful in serving the Lord and to the work assigned, in particular caring for new families and students. We sincerely welcome all those who plan to immigrate, to study, or even just to come to Seattle for a visit to join us in our worship services and enjoy the love and grace of God.
---
教會簡介
西雅圖台語基督教會,創始於1969年十月。從查經班開始到成立教會。草創時期,在日本組合教會做不定期的聚會,並請蔡愛智牧師擔任講道。之後,教會借用大學區的浸信會聚會,前後約三年。 之後十年,在基石教會聚會,由李信助牧師牧養。自 1984 起到 2006 年 12 月,約 23 年時間,由劉富敬牧師牧養直到退休。2007 年 1 月至2009年6月由陳耀光牧師牧養。自 2012 年 7月起由鄭溢恩牧師擔任牧養的工作。英語部始於早年的青年事工,漸漸成形而於西元 1996 年設立英語崇拜,由劉貴祥( Solomon Liu )牧師牧養。自 2007 年 3 月至今由陳維特( Walter Chen )牧師擔任英語部牧養的工作。 英語部會友組成多元化,多為華裔移民第二代與海外留學生。教會目前的會堂購置於 1987 年 12 月可容納三百個座位。
2011 年起在Bellevue設立東區的聚會場所,命名為"好鄰居活動中心",以方便小組團契的聚會和活動,並在東區更積極的舉辦福音活動。
目前教會設有兩場主日禮拜,臺語部崇拜 9:30-10:45am 。 牧師用台語證道,設有中文及英文同步耳機翻譯,每 週禮拜人數 大約 90 人。英語禮拜 11:15am-12:30pm ,每週禮拜人數 大約為 60 人。在禮拜的同時有兒童主日學與青少年團契聚會 ,目前約有 40 名兒童和青少年。
教會設有不同的團契與小組,又有師資良好的兒童及成人主日學,作 聖經教導 的事工。教會的組織完善,牧師與執事同工們都忠於自己的崗位來服事主,復興教會,尤其關懷新移民家庭,新生代家庭及求學者的需要,是一個愛的共同體,愛的大家庭。誠摯歡迎移民鄉親,求學或遊學的兄弟姐妹,共沐主恩。